At Lake View Dental in Kawana, we want to make sure your child feels comfortable at the dentist from the very beginning.
Do you find it difficult to get your child to a dentist? With our tooth fairy appointments, we can help to take the anxiety out of seeing the dentist by making it a fun experience. We can also explain the importance of taking care of their teeth, as well as help them stop sucking their thumb.
Walking you through your child's first appointment
Our Oral Health Therapist, Jodie, will be dressed as the Tooth Fairy to ensure your child's first dental experience is one of a kind. If your child is frightened of the dentist or is their first dental visit, then this is a great opportunity to kick-start their dental health off right!
They will receive a special gift pack and a certificate with a photograph with Jodie the Tooth Fairy and her helper Tayla.
Meet our tooth fairies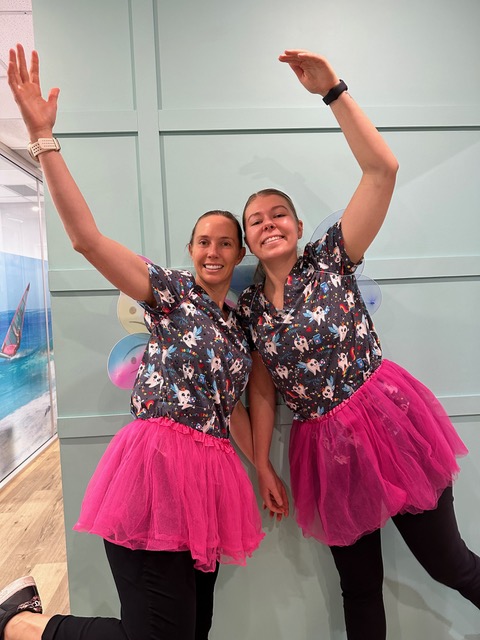 When should a child have their first dental visit?
As soon as your child develops teeth we would encourage you to attend our practice for your child's first dental visit, during which they can become familiar with our dental environment. As your child gets a "ride" in the dental chair, we can count their teeth and have some fun with the dental intraoral camera, giving them a guided tour of their smile. They will receive a reward for their co-operation and our dentists will encourage them to brush their teeth regularly and speak with them about the importance of their teeth.
When the 'big day' comes, we can help you make it an exciting event for your child. If you like you can take along their favourite toys to play with while they are waiting.
Children's dentistry at Lake View Dental
Here at Lake View Dental, we make children's dentistry easy and fun because it is important not to wait until your child experiences a toothache to visit us. From all our staff, we look forward to eliminating any fears in going to the dentist, while also adding a little fun to the experience. Our tooth fairy is a trained dentist with a wealth of experience in caring for children and helping them to relax during their appointment.
Eliminating dental fears
By visiting Lake View Dental from an early age, we can help to eliminate the fear of the dentist. We can create a positive association between your child and visiting the dentist. This will help to build a healthy attitude towards dental care that can last a lifetime.
Do you qualify for the Child Dental Benefits Schedule (CDBS)?
Visit our Child Dental Benefits Schedule page to find out.
Children's Dentistry FAQs
We suggest starting routine dental check-ups when your child is around the age of 2 because that's when they've developed a full set of teeth. Lake View Dental hosts Tooth Fairy days so your little one needn't be scared to come on over and take a seat in the dental chair. Call us today to book your appointment.
There's really no need to use an electric toothbrush if you don't want to. Brushing your pre-schoolers teeth correctly with the right technique is more important than the type of toothbrush you use. A manual or electric toothbrush are both equally as good, we just think that most kids find electric toothbrushes far more fun. If you're unsure of what steps to take to ensure your toddler follows a good oral hygiene routine, read more on our blog.
Here at Lake View Dental we are a holistic dental practice we understand the anxiety out there toward fluoride. But until we can cut all sugar out of our diet we should consider topical fluoride as long as we don't swallow it.
For more information, book your child's consultation with the Lake View Dental team, or join us for one of our Tooth Fairy days!
Tooth Fairy Dentist Sunshine Coast
For more information about you're child first dental visit or to set up a tooth fairy appointment, please contact us today.