At Lake View Dental in Kawana our highly experienced and passionate team are ready to help with any of your dental concerns or queries.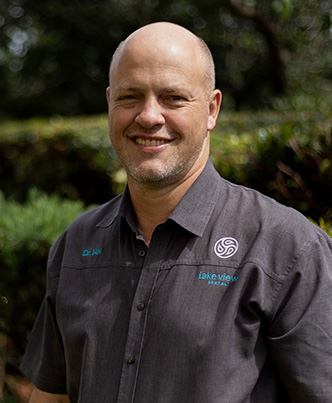 Dr Ian Odendaal
Principal Dentist
Ian graduated from the University of Pretoria in South Africa attaining his Bachelor in Dental Surgery in 1996. Before moving to Australia, Ian had worked in South Africa and the United Kingdom.
Ian and his wife Sunet have 4 children (2 girls and 2 boys), and also have 2 dogs and 2 birds – a busy household! They enjoy spending family time together walking on the beach or kayaking. Ian also enjoys a glass of good red wine and at times likes to experiment making his own beer.
Ian worked for a Charity servicing regional Queensland and found giving back to the community very rewarding.
Ian has a strong interest in quality dentistry and has extensive experience and knowledge in all areas of General Dentistry.
He attained a Master's Degree at the University of Warwick in the UK and is committed to further professional development. Ian has special interests in surgical dentistry as well as orthopaedic jaw development.
Ian believes that healthy proper breathing through the nose has an impact on our general health and wellbeing. Here at Lake View Dental, we believe in 'eat well, live well, breath well'.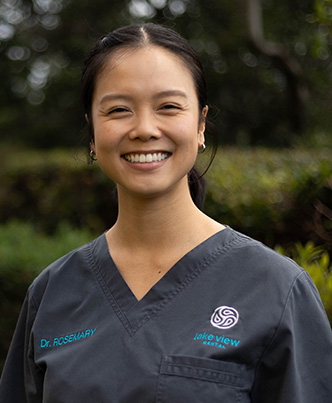 Dr Rosemary Nguyễn
Dentist
Originally from Vancouver, Canada, Dr Rosemary graduated from Simon Fraser University with a Bachelor of Science and moved to Sydney, where she holds a Doctor of Dental Medicine from the University of Sydney.
Dr Rosemary has a friendly and personable disposition that allows her to foster quick rapport with patients while delivering optimal patient care. She is committed to providing patient-focused care and takes time to listen to ensure she provides personalised care to individualised patient needs. She is a firm believer in continuing education and enjoys the science and evidence-based practice of dentistry.
Besides dentistry, she enjoys spending her leisure time outdoors hiking, reading and has a passion for travelling.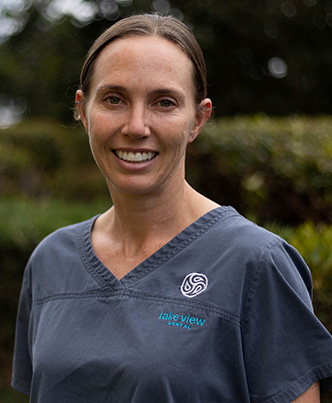 Jodie Bunn
Oral Health Therapist
I have worked in the dental industry since 2007 in the capacity as a dental assistant and receptionist. In 2013 I graduated with a Degree in Oral Health Therapy from Curtin University. I have experience working in both public and private dental practices. I am very passionate about the links between oral health and general overall health. I believe that the mouth and body are integral to each other. Maintaining good oral health is essential to general health and wellbeing throughout life.
My husband and I have two young children and a fur baby Carlos – a stubborn French Bulldog. As you can imagine we are kept very busy at home. We enjoy being active, going to the beach and being outdoors.
I have always been a keen learner and will jump at any opportunity to improve my knowledge and skills. Continuing my education is very important to me and hold a  special interest in Myofunctional Therapy.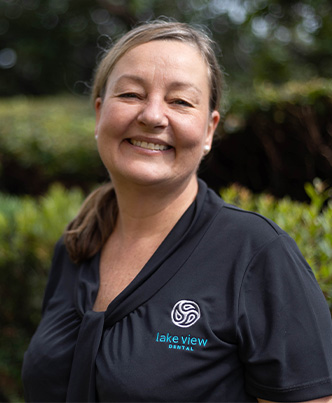 Yvette Stephenson
Clinical Coordinator
I have been dental nursing since 1989, from a busy practice in Sydney's West chairside and practice management. I have been working on the Sunshine Coast since 2009 as a senior Clinical Coordinator to Head Nurse.
I pride myself on excellent communication skills with a nurturing and calm side and am very passionate at what I do.
I actively take part in continuing my education in all aspects of dentistry including jaw growth development.
My husband and I have 2 adult sons. I enjoy cooking, fishing, animals, gardening and having a good laugh.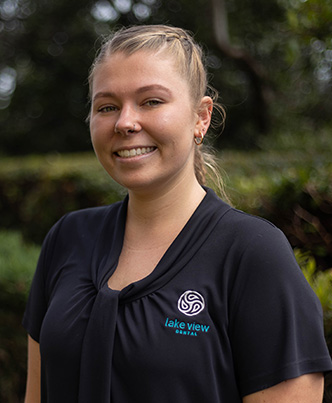 Tayla McPherson
Dental Assistant
Originally from New Zealand I moved to the Sunshine Coast in 2019.
Most of my work experience has been in the horticulture industry but I've always been interested and passionate about health and wellbeing.
When I decided to work in the dentistry field, it was really important to me to find the right team environment.
One that is friendly, fun and has passion for the care of their patients, I've definitely found that here.
I love spending my free time outdoors – at the beach or climbing mountains around the Sunshine Coast. I also enjoy hanging out with my friends and family, having fun and eating good food.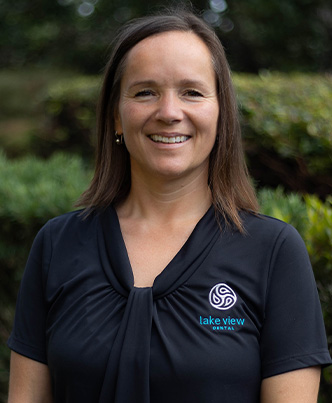 Sarah Kostiainen
Front Office Manager
Always the adventurous type, I left my home in New Zealand at the age of 19 to come and explore the land of OZ. I loved it so much that I stayed to continue my education, and in 2002 I graduated with a Bachelors degree in Communication.
I have worked in various roles throughout the years using my skills in leadership, working with people, graphic design, video and photography.
I also have a passion for all things health & wellness and in 2014-2015 completed my certification in Pilates instruction with Polestar Pilates.
My husband and I moved to the Sunshine Coast in 2016 from Brisbane and we just love it!
My interests include anything in the outdoors whether it's camping, skiing the world with friends or taking our 2 Border Collies to the beach.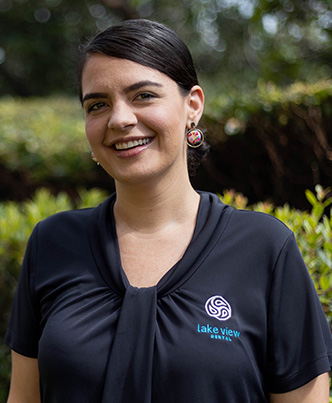 Mikayla Ash
Clinical Coordinator
I have worked with the wonderful team at Lake View Dental for over 6 years, where I originally trained as a dental assistant. I chose to work at Lake View Dental because of their philosophy around dentistry and the connection to overall health and well-being. A few years into my dental career I became front-office coordinator, where I get to greet all of our beautiful patients with a smile. Walking into a dental surgery can be daunting and the most rewarding part of my job is making you feel more at ease.
I grew up on the Sunshine Coast and plan to raise my daughter here. When I am not at work you will find me exploring in nature, cooking, creating, exercising and on the off day maybe binging a new tv series.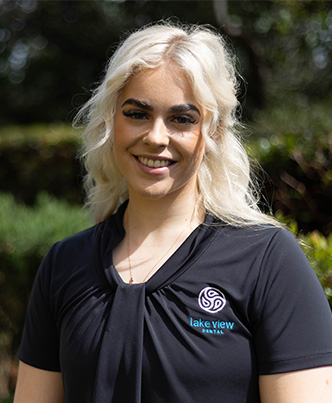 Molly Bailey
Receptionist
I am currently studying nursing and midwifery at the University of Sunshine Coast. I have always had a passion for women's health. I recently moved up from Canberra in June after living there my whole life.
I decided I needed a change of scenery and more sunshine in my life so I moved to the sunshine coast with my family. Mum and I live with our beautiful dog Koba. My interests include exercise, animals and going to the beach.